Chinese standard time 8PM, US Eastern Standard Time 8AM, UK Greenwich Mean Time 1PM, themed Cultivating New Talents in Today's Tech-Driven Economy, an event co-organized by International Business School (IBS) and The Research Department of Guangdong University of Finance & Economics (GDUFE) was held online on June 15. Dr. John Guo, a tenured associate professor of James Madison University, was invited to deliver a speech to introduce the theory & practice of American makers.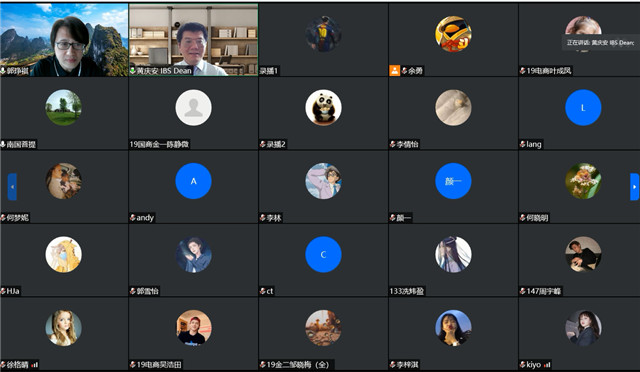 Professor Peng Lei-qing, Secretary of CPC Branch & Executive Dean of IBS, GDUFE, made a welcome speech, when she called for joint efforts in and out of the campus for the construction of The Innovation Center for China-US Youth Exchange at GDUFE, which was officially approved and launched by the Ministry of Education, P. R. China in 2019.
Starting from the present situation, Professor Guo points out that today's industry barriers are becoming shorter or even disappear with the easier access to the materials and the rapid development of learning tools, but the subsequent stronger competitions make the ability to deal with others matters much more. Meanwhile, the industry is losing patience in cultivating newcomers, Professor Guo thus felt obliged to stress the importance of entrepreneurial activities, especially for college students, in that such attempts can greatly enhance their skills of all kinds even if they don't achieve commercial success. Professor Guo then introduced Lean Startup, a lesser-known but effective approach, by which makers or entrepreneurs of startups are able to make and test their hypotheses continuously, so as to learn what customers really want and adjust their strategies before it is too late, rather than wasting time creating elaborate business plans like large companies.
Globally, the event attracted over 100 participants including potential entrepreneurs from GDUFE and other colleges, with whom Professor Guo has exchanged ideas after the speech. The lecture has been proved to be a very good example for teachers' development as well. Dr. Zhao Ming, Director of the Department of Business Management (International Entrepreneurship/Born Global) at IBS, acknowledged that he has benefited greatly from the description of student-as-speaker teaching model and felt more confident in the entrepreneurship education practice in a university specialized in finance and economics.
Professor Huang Qingan, the Interim Director of the Center and the Dean of IBS, hosted the event in London, England. Professor Huang hoped that more makers would make use of the resources of the Center and made greater contributions to the high quality economic growth of Foshan and even the Greater Bay Area. Moreover, Professor Huang Qingan encouraged the youth to actively engage with the center and team up for the China-US Young Maker Competition to promote cultural and people-to-people exchanges of China and the United States and create a bright future together.