On November 12-17th, Professor Sunitha, head of Business, School of Business & Law, University of East London, paid a visit to Guangdong University of Finance and Economics
The University of East London (UEL), is one theUKgovernment's public universities, in London. Its history traces back to 1898 when it opened as the West Ham Technical Institute and became known as 'the People's University'. UEL became a university in 1992. Over the last decade the university has invested £170 million in its facilities. This includes the £21 million SportsDock complex opened in 2012, with facilities so outstanding that Team USA chose it as their training base for the London Olympics and Paralympics., In the 2002 during the Queen's Inauguration Tour, the University of East London was selected to be visited. UEL is one of the most diverse universities in theUK, bringing together students and researchers from more than 120 countries worldwide. UEL empowers its students to discover and shape their own path to success. The university challenges them to transform themselves into inspiring leaders that can bring real change to the local and global community. It produces confident, work-ready graduates with the relevant skills and experience to unlock opportunities.
Professor Sunitha from UEL visited GDUFE and got a cordial meeting from University Chairman Huang Xiaobo and Vice President Du Chengming. Li Xinbo, director of international cooperation and exchange, Deng Shibao, director of scientific research, Huang Qingan, dean of the International Business School, Deng Liju, deputy director of university registry, Huang Xiaoshan, deputy director of human resources, Duan Dan, vice dean of the Graduate school, Wang Yuhui, vice dean of the International Business School, were also attending the meeting. During the meeting, both sides discussed possibilities of cooperative projects about the program of student exchange visits, the establishment of overseas training bases for teachers, the joint training of doctoral students, the cooperation of international MBA and others.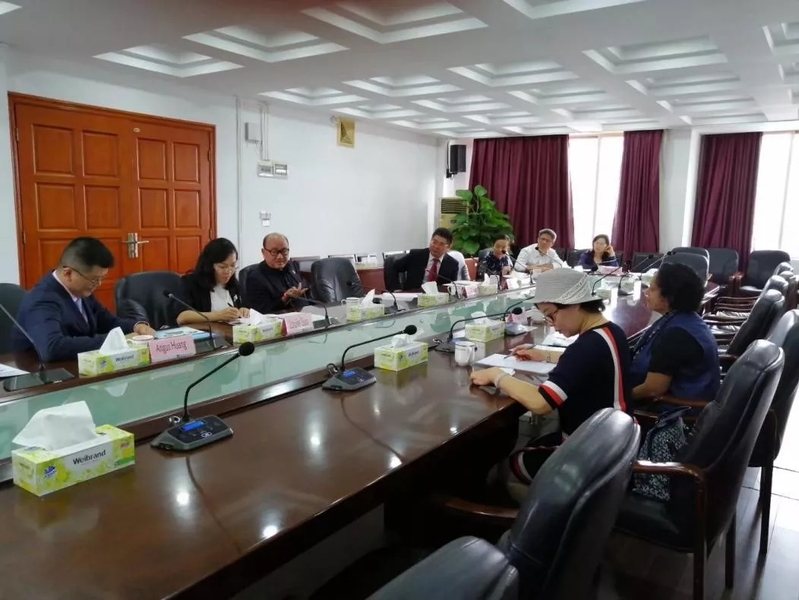 Internationalization is an important strategy of Guangdong University of Finance and Economics. GDUFE has established a lot of 2+2 joint training programs with a number of overseas universities. Several overseas colleges and universities have established teacher training bases, scientific research cooperation platforms with GDUFE.
In recent years, Guangdong University of Finance and Economics is actively reporting the PhD Award Authority Construction Unit. If the proposal and desire for a joint training PhD program with the University of East London is successfully launched, it would be would be conducive to accumulate PhD training experience for GDUFE, and would make them prepared accordingly for the future reporting. Guangdong University of Finance and economics attaches great importance to the internationalization of teaching and scientific research. This meeting with the University of East London will be beneficial for GDUFE to establish overseas training bases in London, so as to provide a better international platform for teachers, promoting the teaching pattern to reach international standards, and establishing long-term cooperation relationship in scientific research with overseas teams.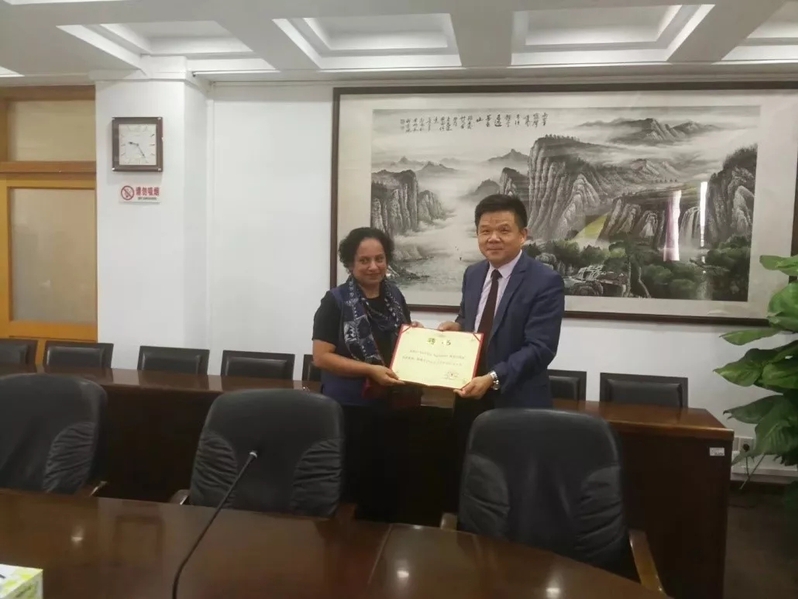 Vice president Du Chengming represents the letter of appointment of "visiting professor" to Professor Narendran
Professor Narendran, as the Overseas Well-known Expertise of Guangdong Province identified by Administration of Foreign Experts Affairs of Guangdong Province, has also been hired as a visiting professor by GDUFE, and will come to GDUFE for academic reports and guidance from time to time.

In addition, Professor Narendran was invited to participate in the 2018 MBA sub-Forum of the Graduate Academic forum of Guangdong Province, where she made an academic report on the theme decision making in management. She delivered lectures on the theme of Methodology training for Staff Research, Advertising ambiguity and customer choice for the International Business School of GDUFE and the faculty of Culture and Creativity as well as the School of Business Administration.
There was a strong response from teachers and students, who thanked overseas experts for the feast of ideas, and teachers said they were inspired in the aspect of research methodology and hoped that the school would hold such overseas teacher's lectures on a regular basis.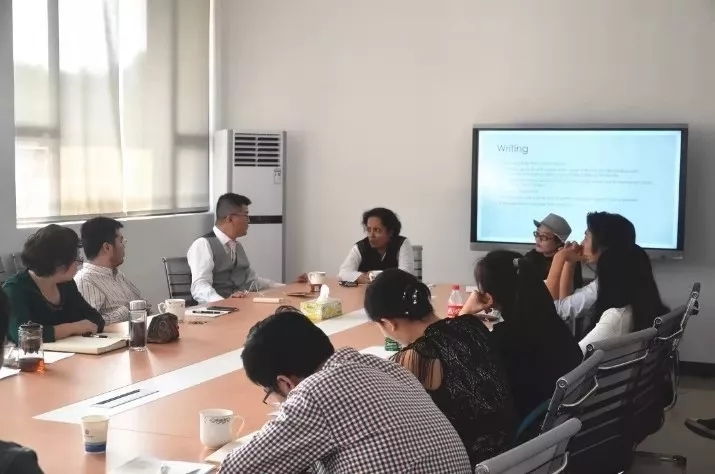 Professor Narendran gave a lecture on methodology to faculty members
Professor Leiqing Peng (1st left ), Professor Jia Yi (2nd left ), Professor Qingan Huang (3rd left )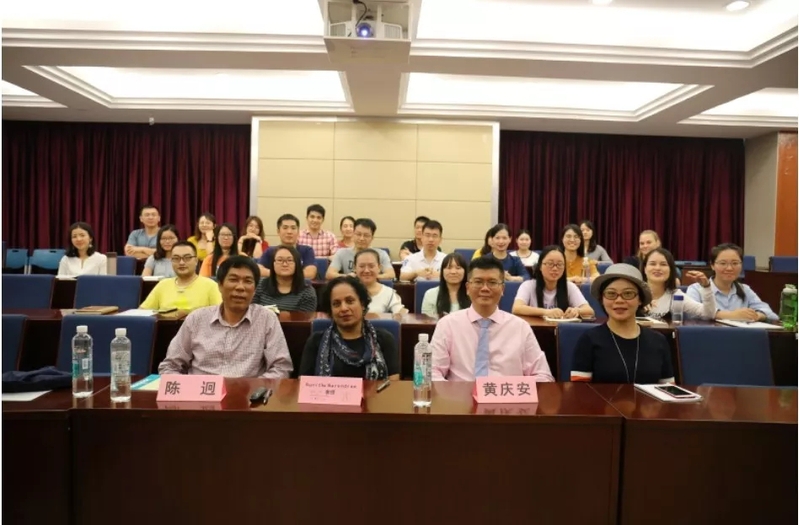 Professor Narendran took a photo with the Director of MBA Center Chen Jiong ( 1st left ) and the students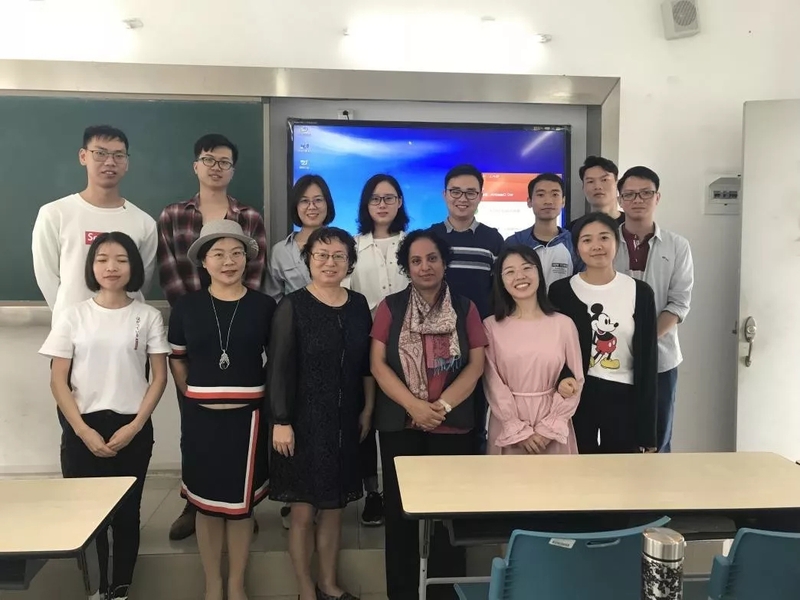 Professor Narendran took a photo with professor Leiqing Peng(3rd left) and the postgraduates of the School of Business Administration
During her visit, Professor Sunitha went to Haizhu campus and Foshan Sanshui Campus of GDUFE, sang high praise to GDUFE campus environment, school-running conditions, students' spiritual visage and staff quality. She said she hopes to take forward the possibility of cooperation with Guangdong University of Finance and Economics. She also will strongly support the internationalization process of GDUFE and work with the university to enable this goal through research and academic achievements in her capacity as visiting professor of GDUFE.
Deputy dean of Sanshui Campus Administration Committee Zhong Zhi ( 4th left ) was introducing the history and future development of GDUFE to Professor Narendran
Author | Xiaolong Gu, Meilan Chen, Yunyi Deng, Zhaobang Ye, Huimin Ling
Edit | Jun Li