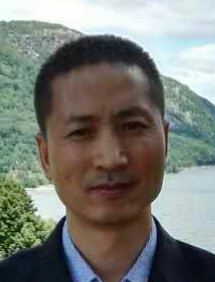 朱志宇,男,汉族,1968年生,美国管理技术大学工商管理博士,现任国际商学院实践导师。

Zhu Zhiyu, male, Han nationality, born in 1968, Ph. D. in Business Administration from American University of Management Technology, current practice supervisor of International Business School.
主要实践经历:
1986年-1990年在新疆财经大学工业经济系学习4年,获得经济学学士学位
1990年-1994年在新疆财政厅办公室任秘书工作
1994年-1995年在中国西北贝正有限公司任董事、总经理助理(是财政部牵头西北五省财政联办的公司)
1995年-1999年任新疆自治区地方税务局劳动服务中心主任(法定代表人)、新疆龙洋大酒店有限公司董事长(法定代表人)
1999年-2001年在中国人民大学中文系学习,作为在职研究生获得结业证书,只因没有参加外语考试,故未获得硕士学位
2000年至今在广州筹建并运营广州市天河电脑城有限公司
2007年至今在广州组建并运营广州怡新素食有限公司任常务副董事长
2008年至2016年在上海筹建并运营上海慧润福能源科技有限公司任董事长(法定代表人)
2010年-2016年在上海罗伊尔置业有限公司任总经理
2014年-2016年在北京大学参加联办的美国管理技术大学学习,并于2016年获得美国管理技术大学工商管理专业博士学位.
Main practical experiences:
From 1986 to 1990, he studied in the Department of Industrial Economics of Xinjiang University of Finance and Economics for 4 years and obtained a bachelor's degree in economics.

He worked as a secretary in the office of Xinjiang Finance Department from 1990 to 1994.
From 1994 to 1995, he served as a director and assistant to the general manager of Beizheng Co., Ltd in Northwest China (a company led by the Ministry of Finance of the five provinces of Northwest China).

From 1995 to 1999, he served as the director of the Labor Service Center of the Local Taxation Bureau of Xinjiang Autonomous region (legal representative) and the chairman of Xinjiang Longyang Hotel Co., Ltd. (legal representative).

He studied in the Chinese Department of Renmin University of China from 1999 to 2001.

As an on-the-job graduate student, he obtained the certificate of completion, but did not get a master's degree only because he did not take the foreign language examination.
Guangzhou Tianhe computer City Co., Ltd. has been established and operated in Guangzhou since 2000.

Since 2007, he has established and operated Guangzhou Yixin Vegetarian Co., Ltd. as executive vice chairman.

From 2008 to 2016, he was the chairman (legal representative) to establish and operate Shanghai Huirunfu Energy Technology Co., Ltd.

From 2010 to 2016, he served as the general manager of Shanghai Royle Real Estate Co., Ltd.
He studied at the American University of Management Technology jointly organized by Peking University from 2014 to 2016, and received a doctorate in business administration from the American University of Management Technology in 2016.